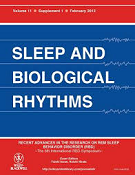 Journal compilation © 2009
Japanese Society of Sleep Research
日本睡眠学会機関誌SBRの全文を閲覧する場合は、右のログイン画面から日本睡眠学会会員専用のIDとパスワードを入力して、ログインする必要があります。
ログインIDとパスワードは、日本睡眠学会会員専用ページをご確認ください。
To view the full text of SBR - a journal of Japanese Society of Sleep Research (JSSR), enter login ID and password in the right login window.
Please refer to JSSR exclusive members' page for login ID and password.
会員以外の方は、左の[Sleep and Biological Rhythms(表紙)]からアクセスしてください。
For nonmembers, please click "SLEEP AND BIOLOGICAL RHYTHMS" on the left for further access.
謝辞 2013 Reviewers List
The editorial board of SBR would like to appreciate great contributions of listed reviewers to regular publications of this journal in 2013.